Description

Product Display

Features & Package
About the product


Amazon link:FAMILIFE Manicure Set 11- in-1 ,Gift Box ,Stainless Steel, Great Christmas Birthday Gift

Perfect Gift
Do you looking for a perfect present for your wife / mom/ daughter / husband / girl friend / dad . This grooming kit case comes with a magnificent appearance and decent gift box. Looks rich and royal, holding up beautifully. so it's a perfect ideal anniversary, christmas, birthday, mothers day, fathers day, marriage, thanksgiving, valentines day and all further occasions gift for your family and friends.
Content
11 pcs of manicure tools ,including 1 cuticle cutters, 1 eyebrow clip, 2 nail scissors, 2 nail clippers,1 cuticle pusher,1 nail file, 1 tweezers, 1 ear pick, 1 cuticle trimmer.
Good Material and Portable
Made of top quality stainless steel, never rusts, built to last a lifetime . and the small size and light weight make it convenient to carry, can fit into almost any handbags / shoulderbags, great for travel or at home.
Satisfaction guarantee or your money back
If you are not satisfied with our product for any reason, simply contact us and we will give you a refund or a replacement ,whichever you want.

With this kit, you won't need to buy single product when you want clip your nails Single space for each tool, zipper closure and with a clear view of all the tool you need Easy to storage and carry Looks exquisite and fits into your travel luggage and handbags easily, handy for use Kindly note: Please keep away from children because both of the clipper and pusher are extremely sharp.

You may like
Customers who bought this item also bought:FAMILIFE L04 Professional Stainless Steel 4-in-1 Manicure Set Gift box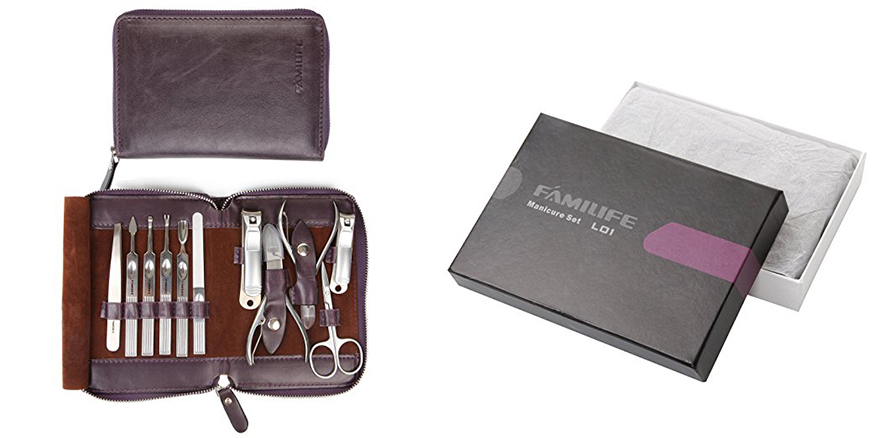 Specification
Color: Purple
Tool Material: Stainless steel
Case Material: Durable Leather
Size: 14.5*2*10cm/5.7*0.78*3.34inch(L*H*W)
Packaging Size:16*3*11cm/6.3*1.18*4.33inch(L*H*W)
Weight: 338g/11.9oz
Package Weight:14.3oz
Delivered in an attractive gift box

Function of each tool
1. Tweezer: use for trimming eyebrows.
2.Cuspidal/ obtuse Push-type broach: used for pushing back the edge of the mail keratin and scrape nail polish and other residues; tip portion for cleaning a ditch and crevices dirt which is difficult to clean .
3. Ear pick : using for ear cleaning .
4. Dead skin fork : with V type cuspidal head, effectively trim surface, agnail, callus, valid , dead skin, etc.
5.Nail file: polishing rag after nail cutting to make nails rounded, smoothly.
6. Nail clipper: use for nail trim
7.Nipper: used for trimming hard and thick nail or callus; cuspidal design is easy for trimming the narrow places
8.Cuspidal beauty Scissors: used for trimming the eyebrows after pulling eyebrows or shaving eyebrows, to keep the eyebrow clean and tidy , it can also trim extra dead skin and bottom cover skin agnail .

Gift idea
Our pedicure set are unique gifts for him and her - suitable for home or travel use

Product Dimensions
5.7 x 3.3 x 0.8 inches ; 11.8 ounces

Shipping Weight
14.4 ounces